CA Driver's License and Identification Card
The California Department of Motor Vehicles annually issues about 9 million driver's licenses and identification cards. A driver's license or identification card is the primary identification document in California. It is valid for all purposes except international travel. All licenses and ID cards must be authenticated and accurate to identify an individual. That is why they have several security features.
The New Design of Licenses and ID Cards
In 2010, the DMV updated driver's licenses and identification cards with new security features and a completely new design. The new features included:
Format is vertical for minors (persons under 21) and horizontal for adults (persons 21 and over).
Cardholders last name is on a single line. The first and middle names are on a second line.
Tactile date of birth and signature.
Ultraviolet photo and date of birth of cardholder.
Illustrations of well-known California landmarks are in the background.
California brown bear outline is visible when a flashlight is pressed against the back of the card.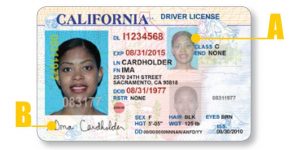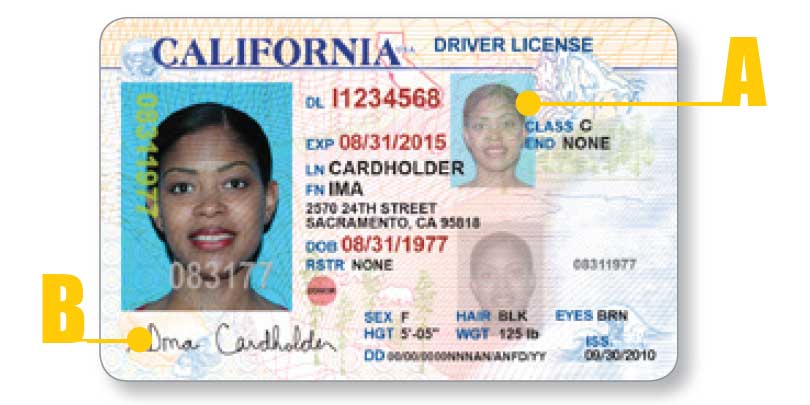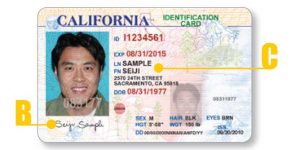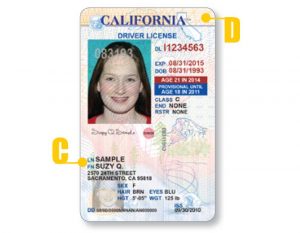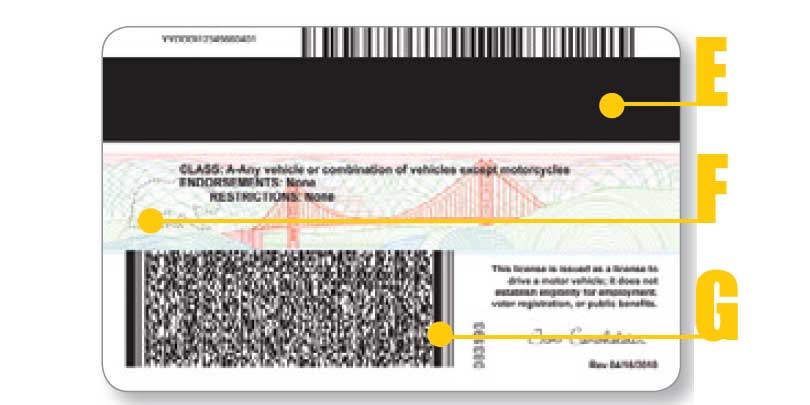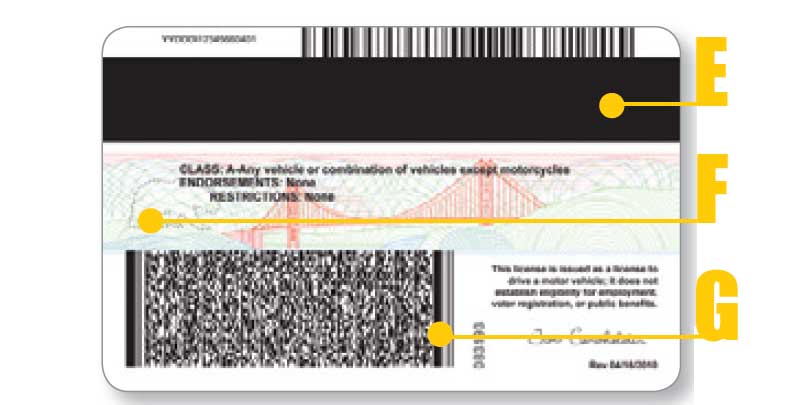 A. There are two photos on your license or ID card. A smaller and lighter color UV Image is visible under ultraviolet light.
B. Your signature is engraved with raised lettering that can be felt by touch.
C. Two lines are used for your name. Your last name is displayed on the first line. The second line shows your first and middle name. It simplifies the display of different naming conventions.
D. If you are under 21 years old, you will be issued a vertical license or ID card. The vertical format will help retailers and law enforcement quickly identify the cardholder's age.
E. The magnetic stripe on the reverse side of the driver's license or ID card holds the same information found on the front of the card.
F. DMV has added a laser perforation to the card. You can see the outline of the California brown bear from the front of the card when a flashlight is pressed against the back.
G. The new 2D barcode on the reverse side holds the same information on the card's front.
When You Move to California
Remember, if you move to California and want to drive in California, you must apply for a California License within ten days.
If you have a valid license from another state, the DMV usually waives the knowledge and road tests.
More Information
More information about Driver's License and ID Card Information